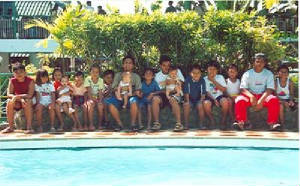 These are my precious jewels, among the very reasons why I live, my langlangs: Lindon, Tata Elicar, J-R, Gicel, Michael, Jan Rae, Baby Karl, Kim, Marvick, Marqui, Marvith, Baby Eufe, MM, Pongpong, Shanine, Doodz, and Dondee. Anly wasn't born yet when this pic was taken.
My darling Dondee, among the apples of our eyes.



This is Anly, one of my precious jewels.
I'm very glad and so proud that Dondee and Anly have learned how to access the net.